Administration Center
Track your system load in real time and stay informed of resource bottlenecks before they happen. Prepare templates for virtual environments and make use of the simple provisioning mechanism.
Plan to roll out new virtual environments, configure cleanup processes and let ENTEAS VI do the rest for you automatically. Save time! Be efficient!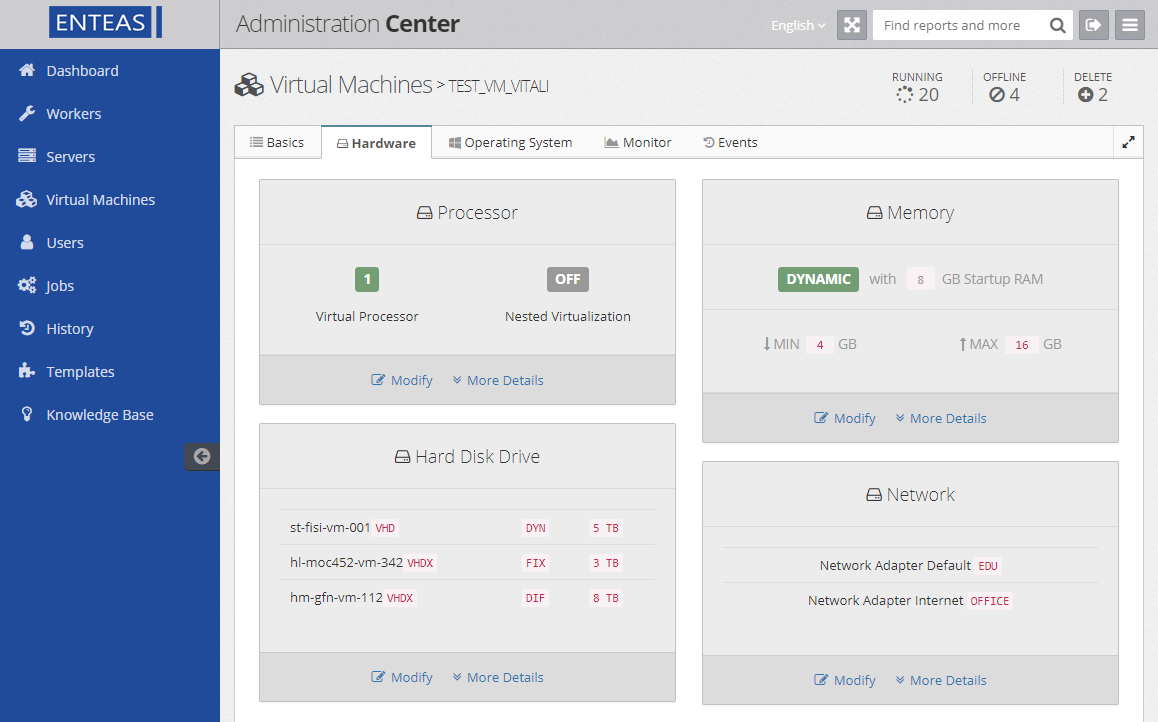 User Workspace
Take advantage of an easy web-based access to your virtual environment. All you need is a web browser and your personal login data. For even quicker access, use the simplified login mechanism based on a unique access key for non-user-specific and non-critical system environments.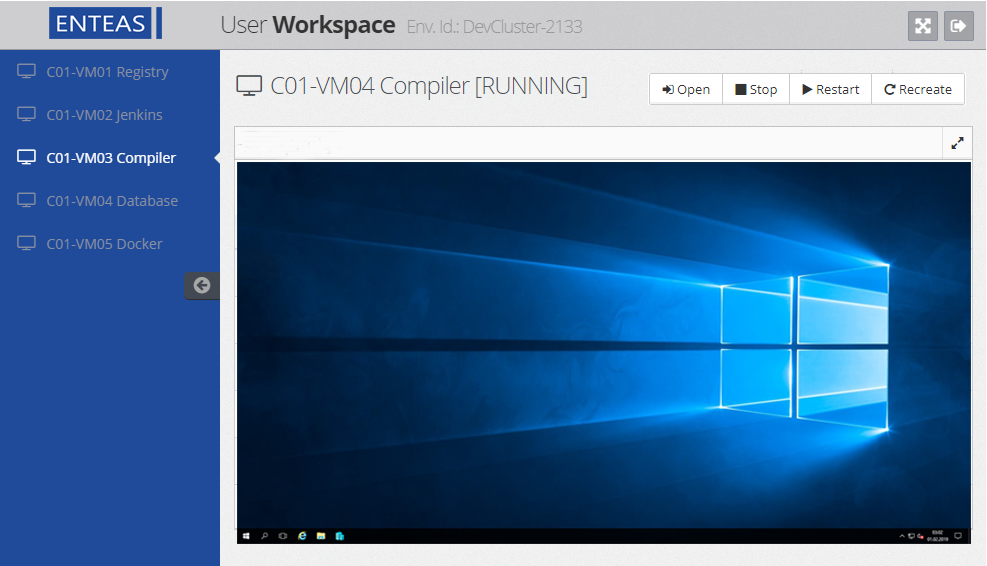 Ordering Portal
Provide a unified ordering process for virtual environments for your employees and get an overview about the actual demand of your infrastructure resources. Be notified of incoming orders to enable shorter processing times.
Confirm the incoming orders and ENTEAS VI will schedule, prepare and perform the deployment of the virtual environments for you automatically.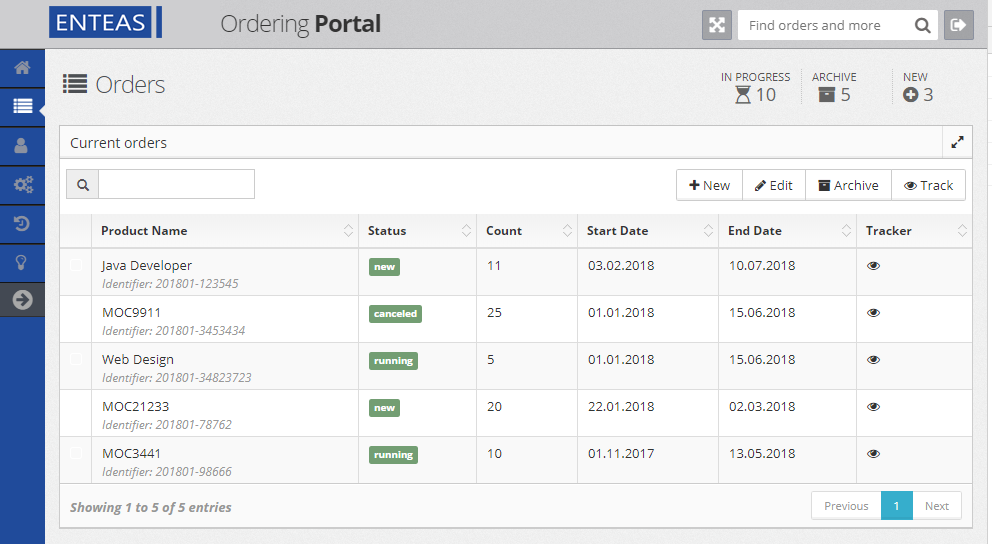 Seamless integration
Easily integrate our solution into your system landscape by installing our leightweight tools on the systems you want to manage.
Web based interfaces
Each of the described applications comes with a user friendly, web-based interface developed with sustained modern technologies.
Scalable and high performant
Our solution consists of scalable components to handle high numbers of users and managed systems without sacrificing performance.
Adaptable to corporate design
You would like to see the applications in your corporate design? Provide us the needed designs files and we'll adapt your user-interfaces for you.
Failure resistant
Reach high failure-resistance by clustering our solution within your system landspace. The only thing that needs changing is a configuration file.
Dedicated support
Any kind of support case is treated with a high priority. Furthermore, we can offer you a service level agreement based on your needs.
Reclaim your workday
Be more productive and reduce organizational overhead with ENTEAS VI. Contact us and we will offer you a solution that will fit your needs!
Start now
Frequently Asked Questions
Got a question? We've got answers. If you have some other questions, contact us using email.
Are there any system requirements?
The core of our solution is completely platform independent and will be delivered inside a ready to use virtual machine. Besides the core system a leightweight Windows Service needs to be installed on the same system the hypervisor is running on.
What hypervisor types are supported?
For now only Microsoft's Hyper-V is supported as the main hypervisor type. The use in a hyperconverged infrastructure is also possible and easily configurable.
Do I need a specific network configuration?
No! The communication channel between the end users and their virtual environments does not depend on any additional network configuration. The connection will be established by using Hyper-V's connect protocol.
Can I configure permissions for users?
Of course! We provide a per user permission management for all main components of our solution. You can easily assign rights to registered users and even import existing users through LDAP.
How can I access my virtual environment?
Everything you need is an internet connection and a browser with HTML5 support. No plugins and no add-ons needed. Access your virtual environment from everywhere without any additional configuration.
Can I control my virtual environment?
Yes. Our user workspace application provides you basic functionality like stop, restart and even recreate for each of your virtual machines. Limit your support times by providing the user the possibility to solve basic issues by themselves.